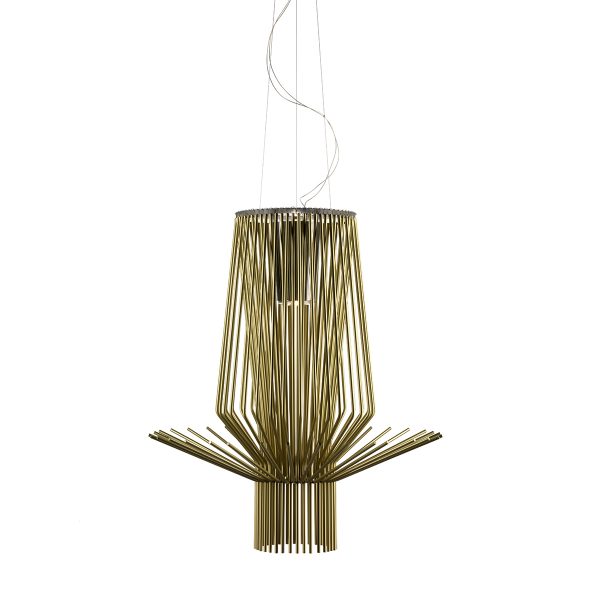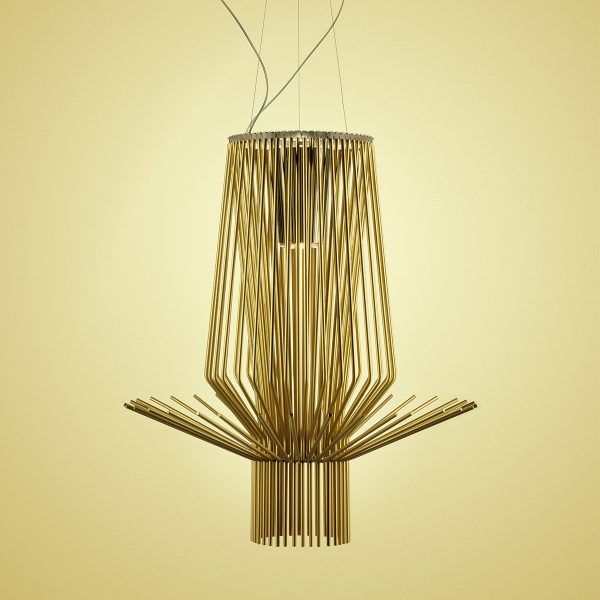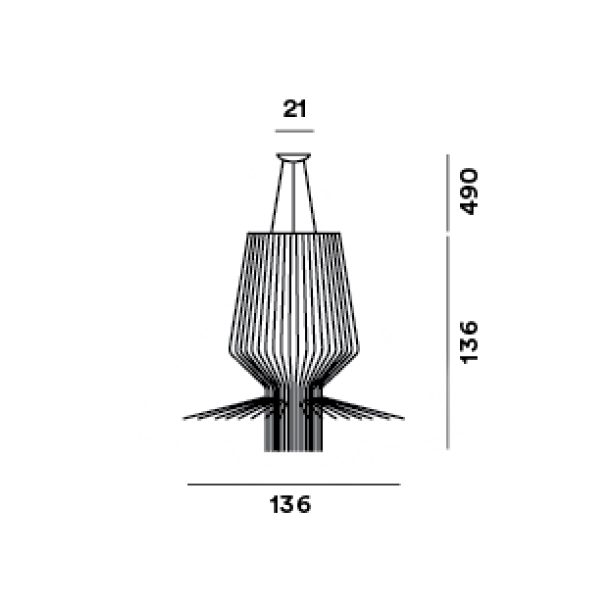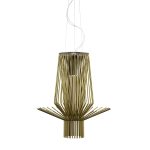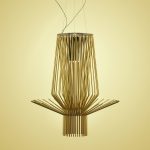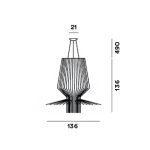 Allegretto Assai Suspension Lamp – Gold
$5,500.00
Allegretto brings all the wonderful theatricality and magical harmony of the Allegro project to the home and to contract spaces, with proportions and volumes designed on a smaller space. An entire family of hanging lamps that take on their shape thanks to the force of gravity, created with metal lines that design the light and emit sounds when they touch.
The collection name is inspired exactly to this "musicality". There are three versions, according to the finish of the metal elements, to express three different styles: Allegretto Ritmico in graphite, Allegretto Vivace in copper and Allegretto Assai in gold.
Allegretto lamps can be used as the visual centre of an environment, instead of a traditional ceiling lamp, or to complement the larger Allegro models in a project that is coherent in its concept and realisation and free to be customised.
LIGHTSOURCE
230W+100WR7s+e27 PAR30
Non dimmable
MATERIAL
Lacquered aluminium and chromed metal
Description
---
Foscarini
A special personality in the world of lighting. A technological and creative workshop that conceives, develops and produces not just lamps but pure emotions, in collaboration with many other designers from around the world. A company that is free, passionate, unconventional and right at the heart of the industry in which it thrives.
---
---
Atelier Oï
A trio of designers whose aim is to overcome the limits between various project and product genres, pooling together several disciplines and materials.
The "Troika" of Atelier Oï consists of Aurel Aebi, Armand Louis and Patrick Reymond. From the onset, the studio has aimed at breaking down the barriers between the various spheres of design and at emphasising the cross-contamination possibilities of the various disciplines. International projects range from architecture, to interiors, to product design and stage design.
A multi-disciplinary approach, experimentation and a close relationship with the material form the core values of the creative philosophy of Atelier Oï, which has received many international awards.
---
---
Only logged in customers who have purchased this product may leave a review.