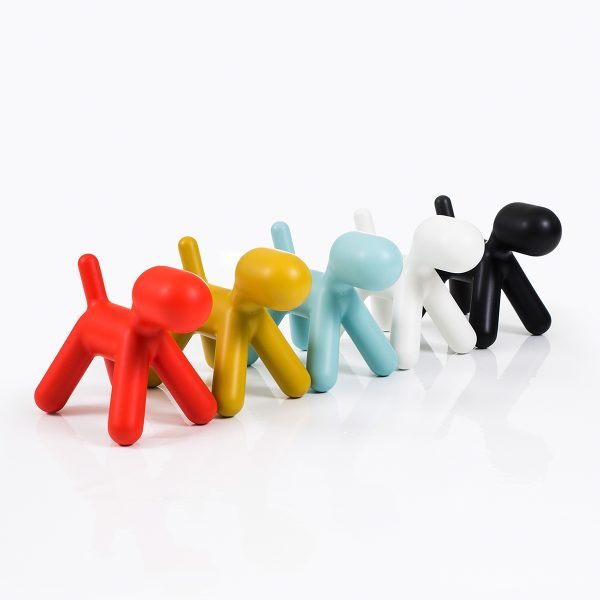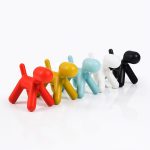 Puppy – Extra Small
$105.00
Puppy is one of the most iconic products in the Me Too Magis' collection. Created by Eero Aarnio, master of Scandinavian design culture and innovator on the international scene ever since the sixties, Puppy is a little dog as imagined by the great designer, whose aim was to see through children's eyes when they draw puppies.
A head, a body and legs: essential, rounded shapes that come to life in a friendly, playful, durable and colourful object. Made of polyethylene, and produced using rotational moulding, the piece is guaranteed to be both sturdy and lightweight, ready for endless moments of play and fun, both in the house and out of doors.
Material: Injection-Moulded Polypropylene.
Measurements: 
Extra Small: Height 14.5cm Width 11cm Length 18.5cm
Small: Height 34.5cm Width 26cm Length 42.5cm
Medium: Height 45cm Width 34cm Length 56.5cm
Large: Height 55.5cm Width 42cm Length 69.5cm
Xlarge: Height 80.5cm Width 61.5cm Length 102.5cm
Suitable for both indoor and outdoor use.
Description
---
Magis
Founded in 1976 in the bustling north eastern corner of Italy by a newcorner to the furniture business. Eugenio Perazza,Magis is today a giant international design laboratory that constant puts itself to the test, seeking technological sophistication an employing a highly diversfied workforce.Magis seizes the day. It embraceces the creativity of leading global designers and channels it towards objects perched on the cutting edge.
Me Too Collection
Me Too collection was launched in 2004, beginning the collection of objects and furniture for children between two and six. The product range offers a diverse programme: furniture, accessories, toys and even children's clothes which are durable, robust and set no limits for the creativity of kids. The products of the Magis – Me Too collection stand for high quality, chidlren-friendly, modern design and just lots of fun.
---
---
Eero Aarnio
The Finnish designer Eero Aarnio (born in 1932 in Helsinki) is one of the greatest innovators of modern furniture design.
From 1954 to 1957 he attended the School of Applied Arts in Helsinki, and in 1956 he married Pirkko Attila, with whom he had two daughters.
His work as a designer began in the early 60s, when he opened his own design studio in Helsinki.
Eero Aarnio began experimenting with plastics, vivid colors and organic forms, breaking away from traditional design conventions.
---
---
Only logged in customers who have purchased this product may leave a review.